Buttons and the Butterfly. A story of comfort when someone you love has died. (paperback)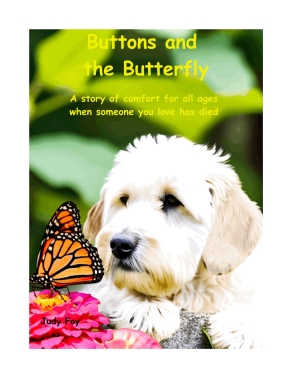 Buy from:

43 pages

This book is illustrated with color photographs by the author.

I hope that beliefs conveyed in this book may bring some comfort to you on the difficult grief journey; resources that I personally recommend can be found by clicking on the Grief Resources button.

If you can't find Alex the aphid, look under Casey, to the left of the brown branch. It's a great hiding place (not posed by me; I was as surprised when I looked at the photos as you will be!)

Have you had your own 'awe moments' while in grief? I would love to hear about them; a special Awe Gallery here on this website provides a place to share your own stories, drawings, and photographs. You can reach me at judyfoy2023@gmail.com.
Reviews:
"This book gave me goosebumps."

"I wish our family had this book when we lost our son."

"This book is a masterpiece."

"As an adult, I loved this book, too. I've read it to my grandchild and to myself many times already."

"My grandson loved it. His parents don't talk about spiritual things at home, but this book opened up the conversation about God, the soul, and heaven between us. We've read it together many times."

"I thought the photos were especially beautiful and appropriate for children. [The child in my life] found the details like the "hidden" aphid a lot of fun and she has asked me to read it over to her many times.

When I finished [this book], there were no words. And then it comes to me…….this is an "awe experience".

Oh wow, brought tears to my eyes but also so much comfort, love the story and the photos are beautiful. A very different book of grief that I think it is for everyone that is in this journey that we do not choose to be in but we need to learn to live with it.
Thank you, thank you, thank you.